OK, let me go ahead and say that Glock makes a darn fine handgun. What is it that every defensive handgun should have? Reliability, decent sights, and a decent trigger. Glock has all that and a Tennifer finish. Are they great looking? Not so much. Are they customizable? Well, sorta in a limited way.
After saying all that, I still don't plan on carrying one everyday after the academy. My biggest problem with the Glock, and with the G17 in particular is that it is too large for my hands. It just doesn't fit well. What can I say, I have small hands. But we all know what they say about guys with small hands is true!***
So what can ya do? How about a grip reduction.
I was issued a G17, and was able to pick up another G17 that had been confiscated from a bad guy and was available for issue to officers. Since G17's are what most everyone has, no one was looking for another. I got it with the intent of doing a grip reduction on it and told the arms master the same. He said fine, do it.
So, here you see both of the G17's, the issue model is a '2 pin' model and the extra is a single pin model. Both are 3rd generation and look almost identical.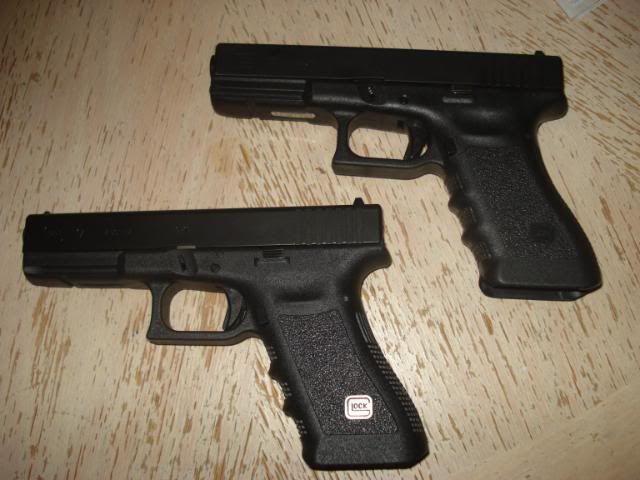 I wanted to do two main areas of reduction, the finger grooves on the front strap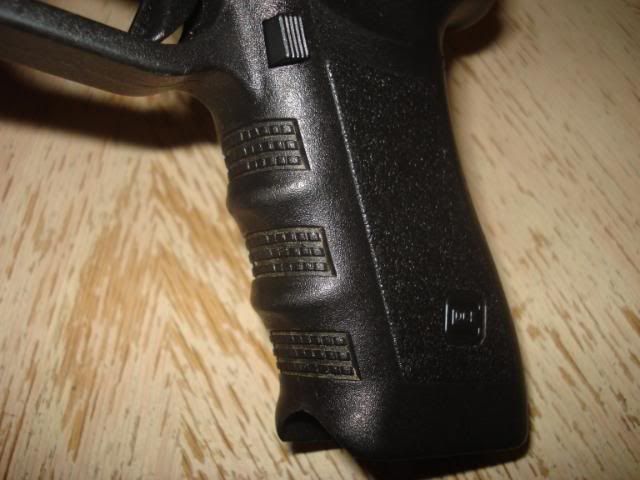 and the 'hump' on the back lower of the back strap.
How to do it? Read on.
First we have to detail strip the weapon, at least as far as removing the trigger and trigger housing.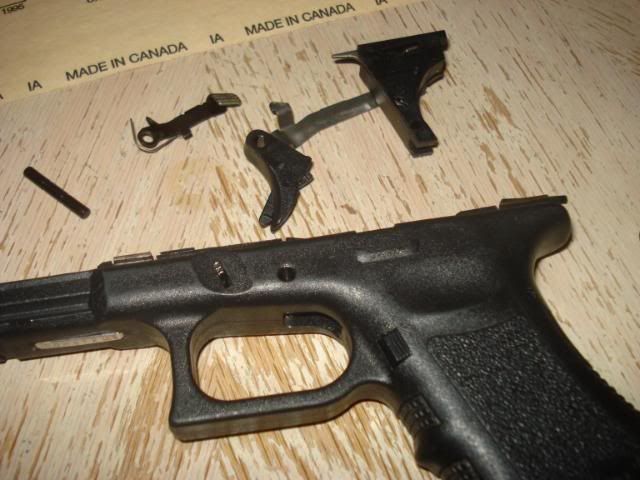 The area of the trigger housing has a hole that connects to the empty void on the back strap. We need to plug that area with play doh, because we will fill the back strap void with epoxy.
In order to make a bit of a mechanical lock we have to do a bit of destruction. I drilled a couple of holes in the frame, from the back strap through to the magazine well.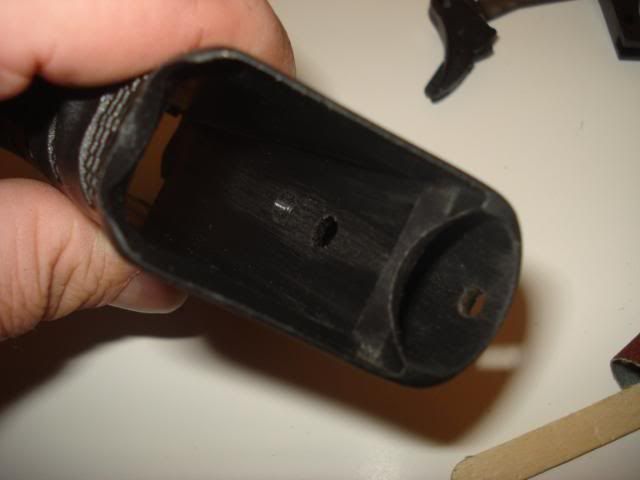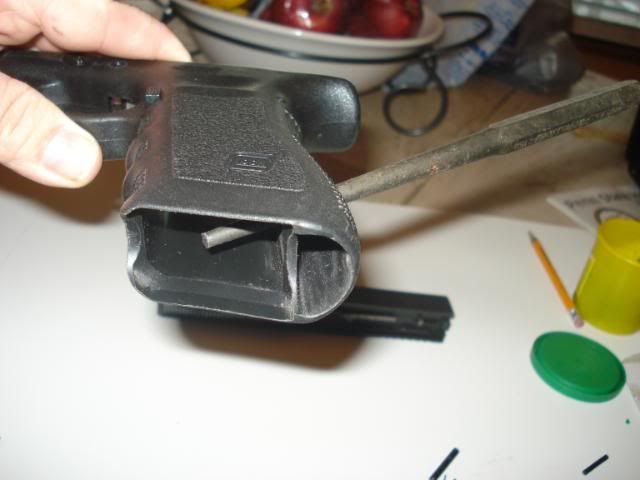 After drilling, take some sandpaper and smooth out the inside of the mag well.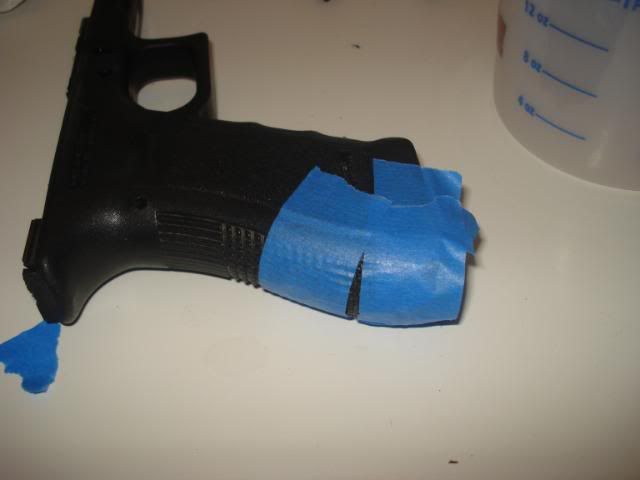 Then we tape up the inside of the mag well and around the holes we made in the grip. Also tape around the end of the grip to make a dam so we don't get any overruns.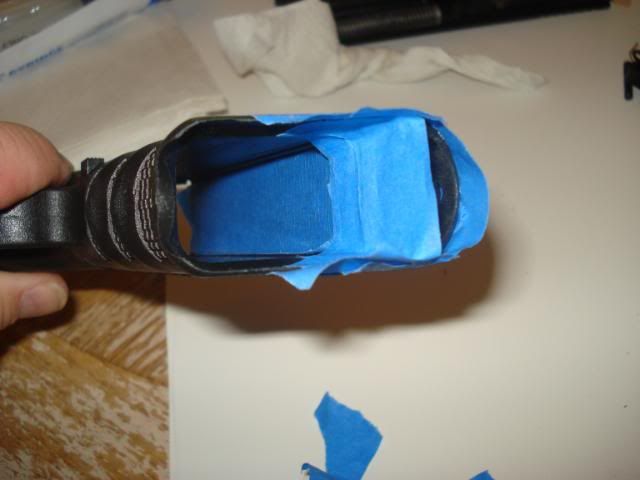 I spent some time trying to pick the best epoxy to use, and honestly, they are mostly the same. I settled on Loctite Plastic Bonder.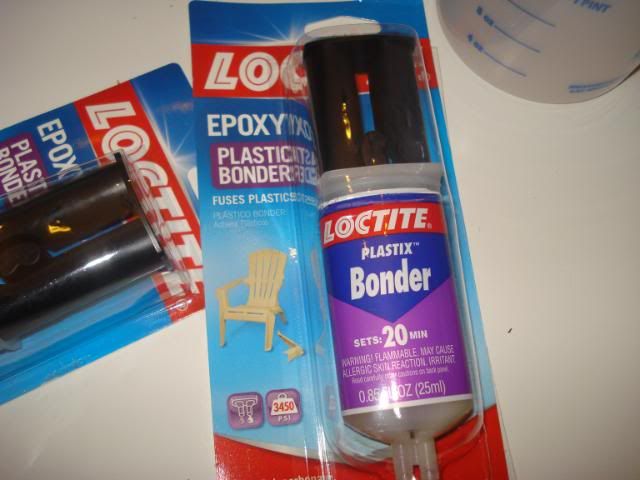 It says it has a 20 min work time. But I ran into a problem, it starts to get thick in about 5 minutes. I had to apply it twice. So if you use this, mix it fast and have in the grip in 5 minutes or less. Honestly, next time I'll use the pre-colored black Accuraglass from Brownells.
Either way, let it set up overnight to be sure and then remove the tape and start the shaping process.
I didn't get photos of sanding the grip down. Imagine a good looking guy, rugged and handsome standing in a shop working with manly tools like a belt sander to sand down and shape the back strap. Now imagine him using a Dremel tool and sanding drum to sand off the protruding grooves on the front. Imagine him testing the feel often until it was as he wanted,
Yes, it was just like that.
After shaping, your grip will need some type of refinish. The factory texture will be missing in some places and it will look like you ran it over a belt sander. So, I took a wood burning tool, very similar to a soldering iron, and used it to stipple the area I had worked on. I used the very pointed tip that came in the set and just went over the areas I wanted to change. It melts the plastic of the frame, so be quick with each touch. After shaping you will have some bare areas showing the epoxy in the back. A shot of flat black Krylon took care of that.
And finally, here are the finished shots with the untouched pistol for comparison.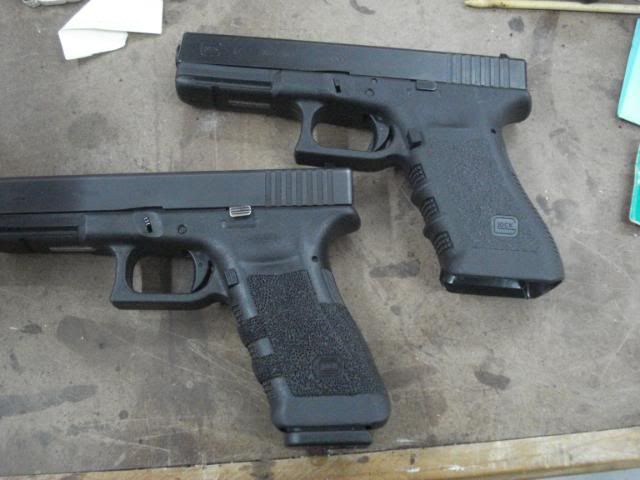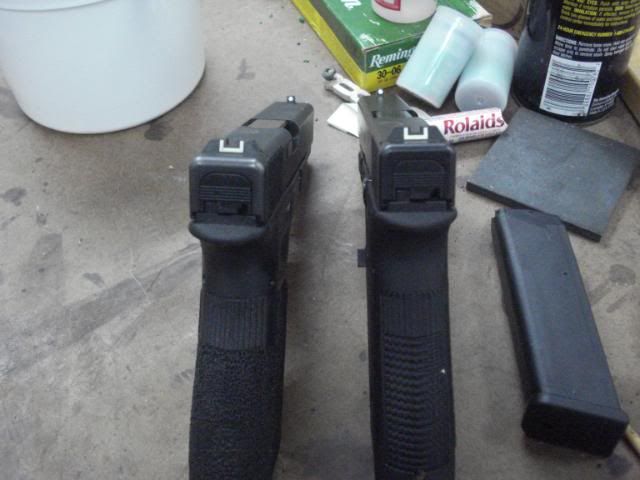 It ain't pretty, but it looks good in it's own way. It is a whole lot more 'grippy', much more texture but not too rough. Taking off the little bit in the back really made it feel better in my hand.
Mr Fixit
***they wear small gloves of course.