I hear words like honor and sportsmanship and often think that they are just words. Often they are only words. However, I want all my readers to know of a time when they were
not just words:
It was the Great Northwest Atlantic Conference softball game between Western Oregon and Central Washington. Western Oregon outfielder Sara Tucholsky came to bat and hit the ball over the fence, her first ever home run. She is a senior, and this game was to decide which team was to advance to the playoffs. With two runners on base, this home run would put her team up by a score of 3-0.
In her excitement, she missed first base, and turned to return to tag the bag. As she did, she fell with a severe knee injury. In pain and crying, she struggled to make it back to first. The umpire told the coach if any of her team touched her, she would be ruled out. If she couldn't complete the bases, they could have a pinch runner called in but the home run would be ruled a single.
While the coaches and umpires were talking quickly, Central Washington's first baseman Mallory Holtman interrupted and asked if it would be OK if the opposing team carried her around letting her touch each base. There being no rule against the opposing team helping her, Mallory Holtman and team mate shortstop Liz Wallace helped her up and carried her around the bases, pausing to lower her and touch the base with her good leg.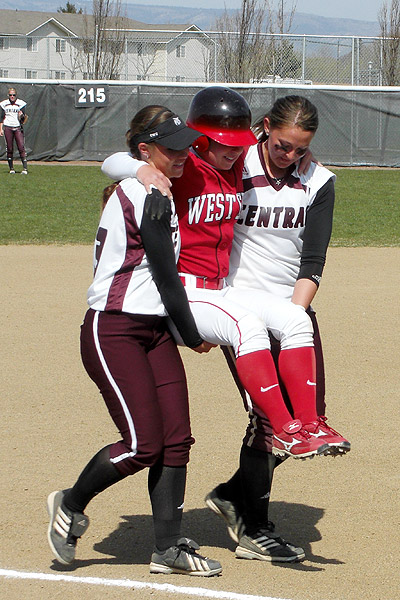 Central Washington lost 4-2.
Congratulations to Sara Tucholsky on her home run.
And a big thank you and tip of the hat to Mallory Holtman. Her sportsmanship and honor are fine examples.
Well done!
Mr Fixit