You guys were right, pens!
So, in the before photo:
You see 3 wood pen 'blanks', Ebony on top, wine colored Big Leaf Maple below. In the bottom of the photo is a blank of Olive wood from Bethlehem. The 2 large blocks are also Olive. They are large enough to cut into 4 sections which is enough to make 2 pens. The packages are a pen and pencil kit. The only thing not shown is the kit for a "teacher pen" that I already had.
And now the after: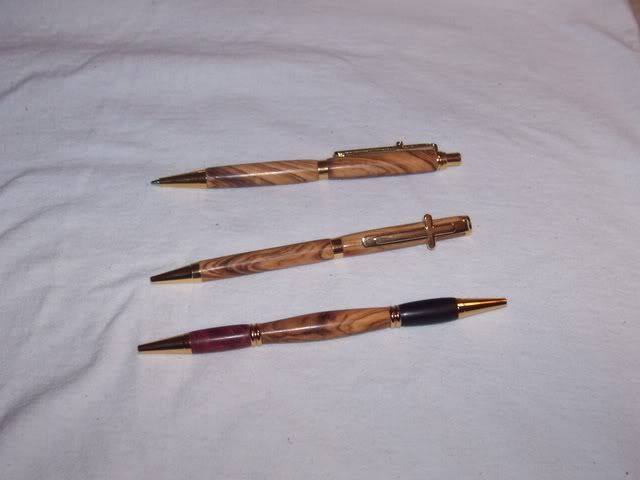 Pencil on top, pen in the middle and teacher pen on bottom. The teacher pen has both red and black ink, one on either end.
The pen and pencil set have a Cross as a pocket clip. These are for my mother-in-law, sorry Rabbit.
As to the type of lathe, I'm not sure. It is my fathers and I make the pens at his house. It is an off-brand, but a decent lathe. I think it would be a midi, as it has about a 3 foot bed. It's a pretty simple affair really, with just a simple rest, no tool holder, and no pattern set up. Each pen is shaped by hand, and all are just a little different.
Mr Fixit